Human Radiance Photo Contest 2023 Overview
Please share with us the "shining people" you have seen!
We believe that there are many different types of sparkling people in various situations, such as in everyday life or at special events.
It doesn't matter what age, gender, or occasion. We encourage you to submit photos of people at their most radiant moments.
We believe that a person's brilliance has the power to make not only that person shine, but also light on the people around them.
There are two courses of entry as follows
Course 1…Follow @kcbkikatsu_eng and Entry via Instagram using
#humanradiancephotocontest2023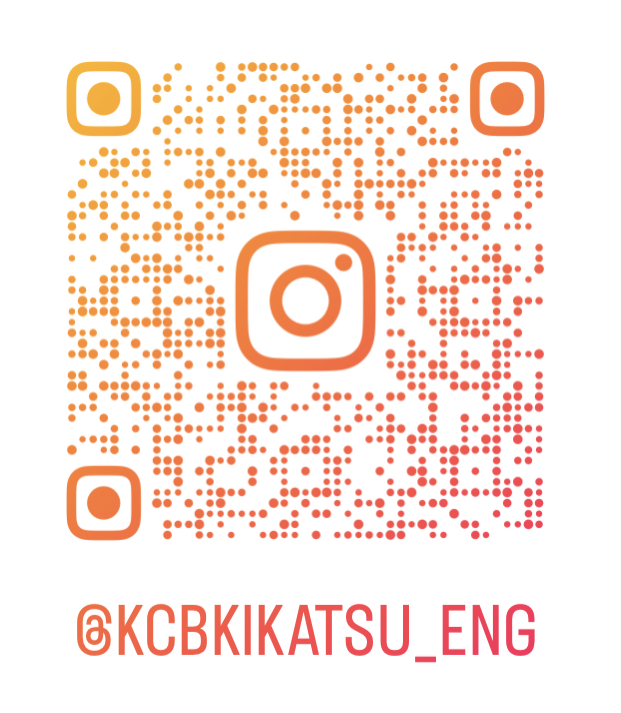 Course 2…Web Entry Entry form at the bottom of this page
Awards
Amazon gift certificates and products from sponsors will be given as prizes.
Grand Award
Grand Award: 1 Amazon Gift Certificate 10,000 yen
Excellence Award
Excellence Award: 3 people Amazon Gift Certificate 5,000 yen
Sparkling Award
Sparkling Award: 2 winners
Enjoy Award
Enjoy Award: 2 winners
Happy Award
Happy Award: 2 winners
Fresh Award
Fresh Award: 2 winners
Judges' Special Award
Judges' Special Award:  1 winner
Selection of Awards
The Executive Committee of the "Human Radiance Photo Contest" will strictly select the winners of the awards.
Application Guidelines
Theme "The moment when a person (people) shines the brightest
Application period
Application period :8/15/2023 – 10/25/2023
Result Announcement
Result Announcement :11/1/2023 Announcement on this website
Eligibility: Anyone, regardless of age or gender, from either Japan or overseas, is eligible to apply.
Those who participate via Instagram must have an Instagram account.
Those who agree to the terms and conditions of this contest.
Winners will be notified by
Instagram…kcbkikatsu_eng will contact the winners via direct message on the "Human Brilliance Photo Contest" account.
WEB…We will contact you at the e-mail address you entered in the entry form.
Please note that failure to respond within 7 days of notification of your winning entry will invalidate your entry.
Supported by
 Kasumigaseki Knowledge Square(KK²)
(as of August 2023)
Terms and Conditions
Please read the following terms and conditions of entry.
Entries that do not comply with the terms and conditions will be deemed invalid.
Application Terms and Conditions
All applicants will be deemed to have agreed to the entry requirements and terms of use at the time of application.
Only entries submitted through the application process described on this website will be considered valid.
Entries that have been edited or processed using a camera application, image editing application, image editing software, etc. are also eligible. However, entries that are judged by the Company to have been extremely modified, specially processed, or combined, or to have used the decoration function of an application, etc., may be excluded from the selection process.
Entries that have won prizes in the past will not be accepted. Entries that have been used by a third party for a specific purpose (such as publication in a magazine or photo book) will not be accepted. However, works that have been posted on the applicant's website, social networking service, or entered in an unjudged photo exhibition may be submitted.
The Company will not be liable for any loss or damage incurred by the entrant as a result of submitting the work.
Winning rights may not be transferred to a third party or exchanged for cash.
Prizes cannot be exchanged for cash.
If the work contains a copyrighted work or portrait of a third party, the entrant must obtain prior approval from the copyright holder of the work or the person whose portrait appears in the work (or a guardian if the entrant is under 18 years of age).
Multiple entries are allowed, but the same photo will be considered as a single entry.
About Instagram Entries
This contest is not sponsored by Instagram.
Please be sure to write the title and your thoughts (explanation) about your entry in your post.
Please do not change your username after submitting your entry.
If you submit multiple images at the same time, only the first image will be considered for judging.
If you unfollow us after submitting a photo entry on Instagram, your entry will be invalidated even if you have been selected. In addition, if your account is set to "Private", your photo cannot be checked and you will not be eligible for the judging.
Handling of Entries
We may request that the winners submit additional, higher-resolution image data.
The Company reserves the right to use the submitted works (including the submitted image data) free of charge.
We reserve the right to reproduce, display, publicize, exhibit, distribute, show, etc. the submitted works in events, exhibitions, printed materials, websites, advertising materials, etc. that we manage, use, sponsor or publish.
We may use the submitted image data in a modified form (e.g., by removing a part of the work or changing the color tone). In this case, the entrant shall not assert any rights based on moral rights against the Company.